(S05E011) Previous Episode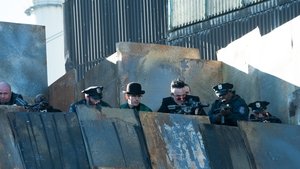 Aired On 2019-04-18
Sorry, we don't have a plot summary for this eposide yet.
Next Episode (S05E012)
Airs On 2019-04-25
The series flash-forwards 10 years into the future, as Bruce is set to return to Gotham for the opening of the new Wayne Tower. A series of crimes leads Gordon to believe Penguin and The Riddler are up to their old tricks. However, when Bullock is framed for a murder, Gordon begins to piece together an even more sinister plot targeting the city, and a new figure emerges from the shadows to be the hero Gotham desperately needs.
Tout le monde connaît le Commissaire Gordon, adversaire redouté de la pègre de Gotham City, un homme dont la réputation rime avec la loi et l'ordre. Mais que sait-on de son histoire, de son ascension de policier débutant à commissaire ? Qu'est-ce que cela coûte de se frayer un chemin dans une ville régie secrètement par la corruption telle que Gotham City, terrain fertile des méchants les plus emblématiques ? Comment sont nés ces personnages hors du commun que sont Catwoman, le Pingouin, l'Homme-mystère, Double-Face et le Joker ?